The story of Taos Land & Film is almost exclusively the story of Jeff Jackson, an independent filmmaker determined to remain creatively independent through sales of real estate in Taos County New Mexico.
Since 1989, Jeff has developed over 5,000 acres of land in Taos, mostly along the edge of the protected wild and scenic Rio Grande Gorge, a dramatic 700 foot+ rift valley tearing through the north central part of the state.
Sales of Taos land over the years have helped to realize Jeff's award-winning documentary film Death and Taxes, his HBO premiere Postal Worker, and fund local film festival awards. Combining his love for film, Taos, and ingenuity in marketing, Jeff gave the Taos Talking Picture Festival its trademark feature, an annual Innovation Award in the form of 5 acres of beautiful Taos mountain land, complete with clear title. Often drawing other film-makers and artists from around the country, many of Jeff's real estate clients, including the winners of the Innovation Award, have also become his friends over the years. Today, there are still creative communities growing in the areas Jeff is developing, who share a mutual love for the arts and the spectacular Taos landscape. Read more.
Death and Taxes
This top-rated documentary at the 1994 Melbourne Film Festival takes us from an unlikely gun battle between the IRS and North Dakota farmer Gordon Kahl, to an historic cross country FBI manhunt, ending finally in Kahl's mysterious and violent death in Arkansas in 1983. All of this, over taxes? Exhaustively researched by Jackson over nearly 10 years, this 1993 documentary covers in great detail the subsequent local law enforcement investigations which uncovered serious inconsistencies between the physical evidence they found, new evidence derived from Kahl's exhumation, and the official story coming out of the IRS.
The Death & Taxes Miniseries DVD Set Includes…
01: Gordon Kahl Meets With Head North Dakota U.S. Marshal Bud Warren (60 min) 02: The Beginning: Gordon Kahl's military experience and views on a variety of subjects (93 min) 03: Gordon's Texas Tax Trial (90 min) 04: Medina Roadblock Shoot-Out (60 min) 05: Gordon Kahl Was…: A montage of over 25 people describing who Gordon Kahl was in their eyes. (50 min) 06: Mysterious Death In Arkansas (90 min) 07: Media Circus: Chronological portrayal of Gordon Kahl in the media (70 min) 08: Yorie Kahl Prison Interview (150 min) 09: Joan Kahl Uncut Interviews (120 min).
Gordon Kahl was viciously murdered in 1983 by a gang of brutal criminals who have never been brought to justice.  As though his mere execution was not enough to satisfy his tormentors, they beat the 63-year-old Kahl with the butts of their rifles, breaking multiple bones and teeth and further mutilated him through dismemberment. One foot would later be found under a refrigerator in the ruins of the house that was also destroyed by these terrorists.  Kahl was executed at some point on that June day in 1983, via a point-blank shot through the back of his head, but still not satisfied, the terrorists then burned his body beyond recognition.  Gordon Kahl had been a highly decorated World War II veteran, a farmer, the father of six, and a tax patriot. He refused to pay taxes to the U.S. federal government after he discovered that the government was operating under the Communist Manifesto rather than the U.S. Constitution.  The cold-blooded killers who carried out this atrocity were U.S. government agents."
Read more at Rense, The Murder Of Gordon Kahl By Mary Sparrowdancer.
Jeffrey F. Jackson, Writer/Producer/Director/Executive Producer is the owner of Taos Land & Film Co. which funds feature films through development of land in Taos, New Mexico. As a filmmaker Jackson's projects cover a gamut of genres and issues. He considers himself lucky to have escaped the grasp of Hollywood's soul-sucking demons and found a way to create films which are both upsetting and untainted by the crass commercial world. His first mentors in the movie business were Stanley Kramer who he worked with at the end of his career through an American Film Institute (AFI) Internship on Kramer's The Trial of Julius and Ethel Rosenberg.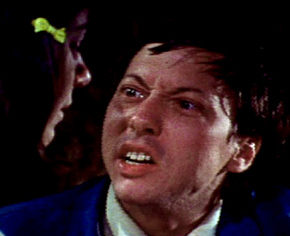 Robert Wise then assisted Jackson as his executive producer on his adaptation of Flannery O'Connor's short story, GOOD COUNTRY PEOPLE, which was funded through an AFI Independent Filmmaker's Grant. David Jauss of the Vermont College of Fine Arts had this to say about GOOD COUNTRY PEOPLE, "I think it's terrific-one of the best adaptations of a short story I've seen. it leads to some interesting conversations about storytelling in film vs. prose." Jackson then went on to spend a decade or so of hedonistic living in Venice Beach, California in an effort to gain some material for his life as an artist. "I think you have to have some decadence and hardships in your life to discover some purpose in your work as an artist" states Jackson.

He finally clawed his way out of his "Life Experiences" phase through working as public relations director for "Heart Seminars", a personal growth workshop developed by author John Gray ("Men Are From Mars, Women Are From Venus"). Jeff plunged John into places like San Quentin Prison to hone the depth of his processes with murderers and rapists and other various rejects of American society.
At that point Jackson decided it was time to get sober and get back to his filmmaking career and he spent the next five years working as a freelance journalist for Larry Flynt researching and writing exposes about the corruption within the federal government. This led to his feature length documentary, DEATH & TAXES, the story of North Dakota farmer Gordon Kahl and his life and death struggle with the IRS.
As the fertile
land in Taos, New Mexico
was funding Jackson's film efforts, he decided it was time to give back some of this good fortune to other filmmakers and he started the Taos Land Grant Award with
Taos Talking Picture Festival
(RIP) which involved his donating five acres of land in Taos each year to the most innovative film director with a feature film entered in that festival.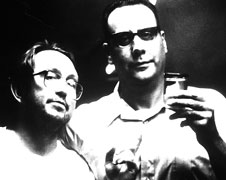 PHOTO: Director Jeff Jackson with actor Brad Garrett on the shoot of
Postal Worker
Next up was his narrative dark comedy delving into the emerging psychosis of overworked government employee Oren Starks (Brad Garrett) in POSTAL WORKER. HBO liked it enough to run it for eighteen months while Jackson discovered there were real life postal workers out there just like the ones he portrayed in his film. In fact, a surprising number of actual postal employees have confirmed the accuracy.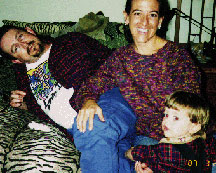 PHOTO: Director Jeff Jackson with wife Jean-Marie and son Duke
Then came a late in life "Domestic Bliss" era where Jackson spawned a family and settled down to raise two children and become trained in the spiritual arts by his guru i.e. wife. And, that brings us up to Ghost Phone (formerly Callers). This movie has a very long complicated and controversial story behind it which I explored with my audience at the film's world premiere at the Santa Fe Film Festival on Oct. 21st at the Cultural Center for the Arts. Stop back often as I'm planning my first ever Kickstarter campaign to offset production costs on the film and promote the movie in an innovative new way that I think you will find quite interesting.